UGPSC News
The latest news from the Ulster Grand Prix Supporters Club
ANNUAL BALLOT
The draw for the 2018 Annual Ballot took place the recent Annual
General Meeting:-

First prize, winning 2 MCE UGP VIP Hospitality Tickets:
R Blair, Templepatrick

Second prize, winning a cheque for £250:
D McCourt, Stoneyford

Third prize, winning the Maxwell Freight Services Corgi Replica:
R G Chambers, Banbridge

Fourth prize, winning a cheque for £150:
McNally & Co, Greystones

Fifth prize, winning 2 MCE UGP Bike Week wristbands:
J O'Toole, Ballymun

Sixth prize, winning a cheque for £100:
D Young, Budore.

Well done everyone! All prize winners have been notified.
Thu May 3 2018
Cecil Calvert dies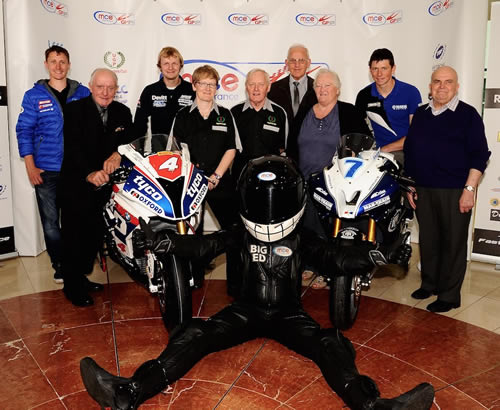 It is with much sadness that we have learnt of the passing of Cecil Calvert.
Cecil was a long standing member of the Ulster Grand Prix Supporters Club Committee.
On behalf of our Chairman Des Stewart and members of the committee I would like to offer our sincere condolences to the Calvert family. . .
Family, friends and former colleagues gathered at Lisburn Free Presbyterian Church on Wednesday morning for a service of thanksgiving for the life of Mr Calvert, who passed away on Friday, March 9.
Read more at: www.lisburntoday.co.uk
Photo from left to right:- Dean Harrison; Cecil Calvert; Ivan Lintin; Vanda Robinson; Des Stewart; Henry Miskimmon; Valerie Miskimmon; Dan Kneen; Andy Pinkerton.
Front: MCE Insurance's Big Ed'
Thu Mar 15 2018
2018 Membership and Grand Annual Prize Draw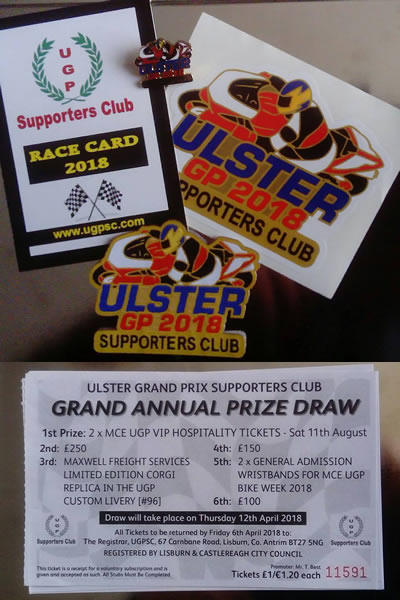 Membership of the Ulster Grand Prix Supporters Club is now due.
By now, most of you will have received your renewal envelope in the post. Membership this year entitles you to the Enamel Lapel Badge, Sew- On Patch, Car Sticker and Race Card. The membership fee for 2018 remains at £15.00stg or €18.00 euro and you now have a number of ways you can pay your membership:-
Return your membership form along with payment in the return envelope in your pack.
Pay in person at the UGPSC Stand at the Northern Ireland Festival of Motorcycling.
Call into the Club Trailer during UGP Bike Week.
OR
*** New for 2018 *** Pay by Direct Debit
The hassle-free way of ensuring your membership is paid each year and as soon as your bank honours the Direct Debit your membership pack will be sent to you. A Direct Debit mandate has been included in the Membership envelope for your convenience.
Also included in your pack is a book of 10 tickets for our 2018 Grand:
Annual Prize Draw. We have six fabulous prizes to give away this year.
To be in with a chance to win please return your ticket stubs as soon as possible as the draw takes place this year at our Annual General Meeting on Thursday, 12 April 2018.
Wed Jan 31 2018
2018 Dates Announced
Just a few weeks after another record-breaking year at the MCE Ulster Grand Prix, organisers have announced that Bike Week 2018 will take place between 5th – 11th August.
Practice sessions for the MCE UGP will take place on Wednesday 8th August and the morning of Thursday 9th August, followed by racing that afternoon and on the main race day, Saturday 11th August.
The 2018 dates are subject to formal agreement by the Motor Cycle Union of Ireland (UC) which will be confirmed at their upcoming inter centre conference.
Clerk of the Course, Noel Johnston, has also confirmed that there are some changes on the way for 2018.
Tue Sep 19 2017
MCE Ulster Grand Prix 2017
When the roads close, records are broken. Legends are born.
Have you got your tickets for the 2017 MCE Ulster Grand Prix?
Sun Jul 2 2017
New Archive